Watching the Superbowl my heart was elated for the Saints and Drew
Brees
but on the other hand I was aching for the Colts and Peyton Manning. I know the feeling before that Gold Medal game, or the
Nat'l
Championship game. You know there is going to be a winner and a loser in just a few hours. You know you will either walk back into your hotel room as a Champion or not. Its the feeling you train for, the place you want to be, you dream about being there your entire life!
It brought me back to my last 2 years of being a Wildcat. In 2001 (my junior year) we did it, finally! We sent 8 seniors out with a Championship, a ring, we achieved it! We were finally the ones jumping up and down on the field lifting the trophy high! This was a magical year, we were on a mission, we had an AMAZING team! I was undefeated this year on the mound... I can remember fighting the devil telling me in my ear, don't let this final game be your only & first loss of the year/season. I fought that the entire time trying to ignore those negative thoughts! I tried focusing on each pitch, each task, and most importantly battling for my team! We did it! We finally won! It was awesome we were playing UCLA, our biggest rival, our biggest competition back then. And we pulled it off 1-0! Finally the Champions!
Then came the next year 2002 (my senior year), we lost 8 seniors from 2001, I knew it was going to be a challenge getting back there let alone winning again! But we did it, we made it back, we were in the Championship game the following year. Just getting to that final game wasn't enough, we wanted to finish it, win it! Coach
Candrea
always says, "its tough to win a National Championship and even tougher to repeat!" But We were going to do it, we could it, I wanted nothing more than to prove that statement wrong! This time it ended the complete opposite way, we fell short, way short. Ouch, it hurt, hurt really bad. This isn't the way I wanted to end my career as a Wildcat. The score was brutal, my last game as a Wildcat was ugly. I was devastated and heartbroken. I can remember fighting the tears and losing the battle of holding them in.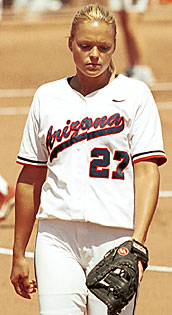 After sitting in the dug out for what seemed like 2 hours, I finally gathered my stuff and made my way off the field. I was walking off of the Hall of Fame Stadium in Oklahoma City as a Wildcat for the last time and we/I fell short. The Lord used this time to speak to me and speak to me clearly. I didn't make it too far, I was immediately stopped at the gate. I couldn't even get out. All I wanted was my hotel room and bed so badly, to sit and sulk by myself. I then looked up and there was this enormous line wrapped around the stadium, no end in sight. The security guards asked me if I wanted to sign autographs. I replied, "Not really, but how can I say no to this line?" He said, "It's up to you?" I knew in my heart I had to sign, it was the right thing to do.
I dropped my bag and stayed there til the last girl received a signature. Through tears, I signed, I was there for hours... I was floored. I kept thinking we lost, I was the loser. Why are these people wanting my autograph? Through so many hugs and generous people encouraging me that day. It was such a gift! A gift from the Lord. He reminded me its not about winning or losing, its about touching lives, touching others! I received more mail from that day than our perfect season,
Nat'l
Champs, going 32-0, the previous year. So many sweet thoughtful letters about the way I handled the loss, thanking me for staying and signing. I was in awe and still am thinking about it today.
The Lord taught me a big lesson that day! It doesn't make the pain of a loss go away but He reminded me of my purpose. Its not about the trophies or medals, its about touching others, living out God's will! Trying to be a Champion even when we are not the Champ. Through Christ we are all Champions, Jesus died for our sins & our losses, we are able to gain the gift of eternity through His grace! We are fighting for the true prize, the nonperishable prize, the prize of eternity! As my Gold medal tarnishes and gets scratched, I cringe. I cringe and then chuckle... its the Lord reminding me yet again, there is more to it! The trophies & medals will one day fade away.
When I go back to Oklahoma City, it never fails, that line is brought up by someone. The longest line they had ever seen for "the loser!" Thank you Lord for using the losses & heartaches to help mold me and shape me. And Lord, just FYI I prefer winning! ;)
Dreaming & Believing,
#27